Most of the bikes you see around the US these days fit into two categories; Cruisers and Sport Bikes. But there are more varieties than just those,
Cruisers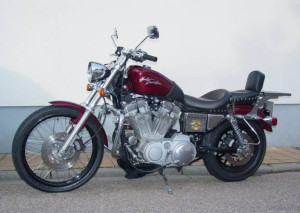 Cruisers are comfortable on long trips and generally their weight makes them good on the highway. They are not the best in the twisties. Pretty much all Harleys fit into this category but these days every major brand makes a cruiser styled motorcycle. The foot controls on these bikes are generally a lot further forward than in other bikes.
A chopper is a style of cruiser which usually has an extra long front end or is significantly modified in another way. The name chopper comes from the way a lot of them are made, by custom "chopping" the front end for modification.
Sport Bikes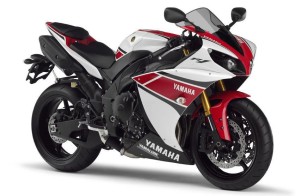 Sport bikes are built to go fast and turn hard. Surely you've seen motorcycle racing where riders actually contact the road with their knee (purposefully) they get so low. Chances are they were on a sport bike. Most sport bikes have large plastic fairings to block the rider from wind and make the bike more aerodynamic. The riding position on these bikes is has your torso tipped forward, some even so much so that you can kind of lie on the gas tank with you stomach if you get tired. Most sport bikes have inline 4 cyclinder high performance engines, that are very smooth and reach high rpms. You've probably heard them zooming by at some point.
If you have ever heard a bike referred to as a "Streetfighter" it was probably referring to a sport bike stripped of all its plastics and fairings.
Standard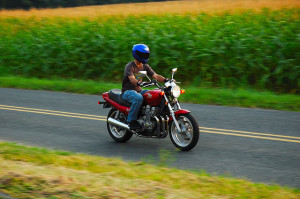 Standard bikes can look can very different from one another, as "standard" really tends to refer to the riding position. In my opinion, the standard position is the most natural and best to ride. With standard bikes you sit more or less straight up, with the foot pegs directly underneath the seat. See the picture to the left of rider on a Honda Nighthawk 750. Unfortunately, there are not too many standard bikes being produced today, although they were once the norm. Many dual sports tend to have a similar riding position to standards and some sport bikes (like the kawasaki ninja) have a seating position that approaches standard with the foot pegs a bit further back.
Dual Purpose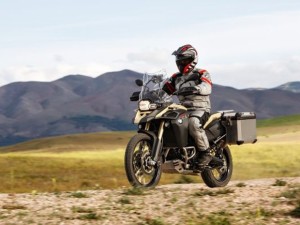 Increasingly popular these days are Dual-Purpose or Adventure type motorcycles, these bikes are designed to be great on road and capable in light off-road duties. The engine size and configuration in these bikes differs, but they have higher than average ground clearance and often have reinforced protection for vital parts of the bike. A good example of this, and a choice of a lot of long distance riders is the BMW R1200GS. Ewan McGregor and Charley Boorman took these bikes around the world in two documentaries called Long Way Round and Long Way Down. I highly recommend watching these movies. But be careful, they will definitely make you want to quit your day job.
Enduro
Enduro bikes are similar to Dual-Purpose bikes with more emphasis on off road capabilities. They are for long distance off road touring, but they can also perform adequately on road. They have long travel suspension and high clearance for off road conditions. The type of tire you're riding is critically important to how the bike will perform in different conditions – and this is the same for all types of motorcycles. A good example is this Kawasaki KLR 650.
Scooters
Scooter's are pretty awesome too and nothing to scoff at. I prefer my Honda CH80 (80cc) for its jump on convenience, it's great to use around town and I can easily lift it onto curbs and park it there. Cops don't seem to mind. Scooters can even be chained up on biked racks.