The SV650 was quite the rage back in its day. It paved the way for the mid sized naked sport bikes of today like the Yamaha MT-07 I covet. It was revolutionary not only because it defined a class, but also because it was an indisputably great manifestation of moto. For its time perhaps the most progressive example of what a production motorcycle should and could be. Borrowing a friend of mine's who bought this as his first bike recently, I had an extended weekend with it and took it about 400 miles. These bikes can be found really cheap these days, sometimes in good condition, sometimes in totally ragged condition. My buddy got a decent version 2 years ago (2018) for $2500. My impressions below.
The powerplant:
The V Twin is way in my opinion is almost always more enjoyable than an inline 4, and that is what most sport bikes of the day had. Indeed my first "real" motorcycle, a Yamaha seca 600, was just that. Similar in specs as it was to the SV650, this twin is just more enjoyable. It sounds better, it feels better; it seems relatively a lot more torquey at lower RPM, less buzzy. Less need to ring it out to super high RPM to engage power. The power specs are 69.0 hp @ 8750 rpm and 45.1 lbs. ft. of torque @ 7000 rpm. For 2003 the SV got fuel injection, and indeed this was a cutoff year for my friend, he did not want to have to deal with carburetors. If you want to ride and not constantly tinker in the garage with carb settings or have to disassemble and clean your carbs often, prioritize fuel injection. Read more about carbs vs EFI here.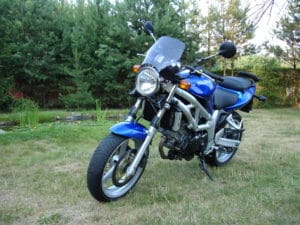 This bike is pretty fast, it certainly meets my speed requirements. The quoted 0-60 is 3.61 seconds, and the quarter mile time of 11.63 seconds. Won't compete with sub 3 second superbikes but will smoke pretty much anything you find on four wheels.
Ride and feel
Back in 2003, the SVs frame was state of the art. High-vacuum aluminum die casting techniques allowed the webbed trellis-like frame to obtain maximum rigidity at low weight. Indeed, the bike feels great in turns with very little flex. Way more confidence inspiring than my 93 Yamaha Seca which was of similar size. The brakes feel very good, just the right amount of power and feel, you have to try hard to drag the back wheel. Being a sport bike with mag wheels, this actually came at the time with Radial tires OEM. Both front and rear suspension are adjustable but only springload. With over 5" of travel in both front and rear the bike is sprung well and comfortable on less than ideal pavement although sometimes feels a bit springy and not dampened enough. But even at higher speeds this springiness never throws off stability. The seating position is more upright than that of a sport bike and a little more aggressive than that of a classic standard, a good compromise between the two.
With a wheelbase of just over 56" and a wet weight around 425 lbs the bike is pretty nimble, but the center of gravity seems a bit higher than something I would recommend as a first bike. The six speed transmission is OK, not perfect it sometimes seem a bit on the heavy side to engage and disengage, but nothing that should really sway your opinion of the bike.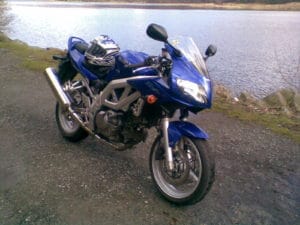 Closing thoughts
I would say this makes a great second motorcycle on a budget if you're looking for something in the sport standard class. It's a little tall at just under 32" seat height and a bit too powerful for something I would recommend as a first ride. But as a step up it makes a great do everything bike. It's super fun in the twisties but comfortable enough with a decent seating position to take on longer trips on the highway or even a weekend tour (although I found the seat a bit uncomfortable, you can always upgrade that.) The power band is a lot more forgiving and usable in diverse conditions than that of four cylinder sport bike's I've ridden. Though this bike did not come with ABS back in 2003, it was added as an option in 2007, and imo this is a serious blow to the appeal of the earlier models.